Manual Brew
The relaxing ritual of exquisitely inducing flavoured beans with gratifying product deliverance.
Pour Over
It's an art form of extracting liquid gold from a little bean bringing a lot of nuance to its flavour.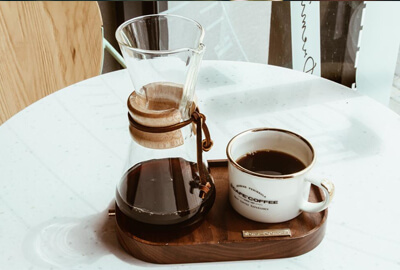 Chemex
The Chemex coffee maker is made of an hourglass-shaped glass flask with a conical funnel-like neck. It also uses proprietary filters, made of bonded paper that makes it the cleaner coffee than other coffee-making systems. It is a single serve pour over method that can be done manually or automatically. Delivers a soft, crisp and clean coffee beverage.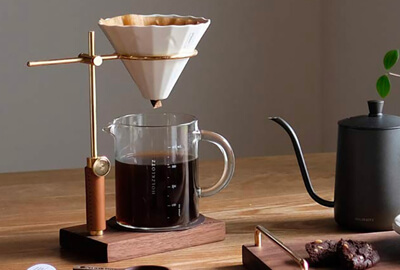 Dripper
One of the easiest way to make handcrafted coffee beverage that optimizes extraction and deliver rich and clear flavours. Depending on the recipe, contact time between the ground coffee and hot water may be between 3 to 4 minutes on a single serve basis.
Immersion
The process of immersing the coffee grounds in water developing the diverse flavours of coffee to a fuller rounded level.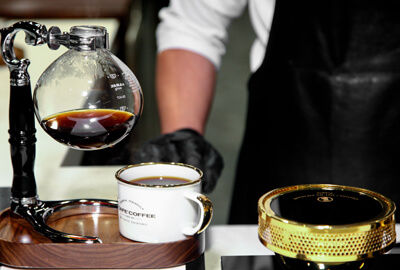 Syphon
Syphon is one of the most theatrical brew method available. Also known as a vacuum pot where it uses vapour pressure and atmospheric pressure to move water up the top vessel and the brewed coffee down the lower vessel. This iconic device provides a clear brew with full spectrum and balanced flavours.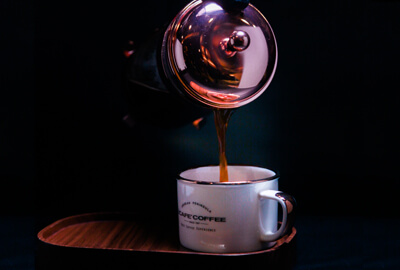 French Press
A French Press, also known as a cafetiere, cafetiere a piston, Cafeteria, press pot, coffee press, or coffee plunger, is a coffee brewing device that provides a heavy mouth feel and intense profile taste. Coffee is brewed by placing coarsely ground coffee in the empty beaker and adding hot—between 93–96 °C (199–205 °F)—water, in proportions of about 30 g (1.1 oz) of coffee grounds to 500 ml of water, more or less to taste. The brewing time is about two to four minutes. Then the mesh plunger or piston is pressed, to separate the grounds and hold them at the bottom of the beaker.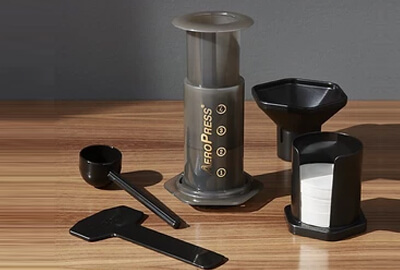 Aeropress
The Aeropress is a device for brewing coffee that was invented in 2005. Coffee is steeped for a period of time and then forced through a filter, paper or disc shaped thin metal, by pressing the plunger through the tube. Devoted fans of the aeropress say it makes the best coffee. On top of being very easy to use, it is a full immersion method like a French Press but applies a good amount of pressure when extracting the coffee. The looks are not exactly beautiful but it is utilitarian... it's easy to use, nearly indestructible but again, in the right hands, it delivers superb coffee.
Pressure
A concentrated and intense shot of coffee produced by pressure brewing, amplifying the flavours of coffee beans.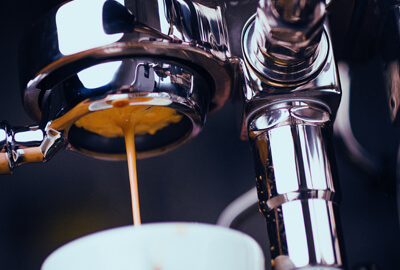 Espresso
The preparation of espresso is what really sets it apart where the actual espresso under the crema will have a unique, rich taste, velvety mouth feel, and aromatic scent. The process also preserves more volatile and aromatic coffee oils that cannot be found in a regular cup of coffee. Espresso machines are pressurized and shoot near-boiling water through finely ground coffee beans packed into cakes that gives a caffeine-loaded shot of coffee approximately in under 30 seconds. Many espresso machines have default pressure at nine bar, which is roughly equivalent to 130 pounds per square inch ( psi). Fun fact! You would need to dive nearly 300 feet deep in the ocean to experience optimal espresso pressure.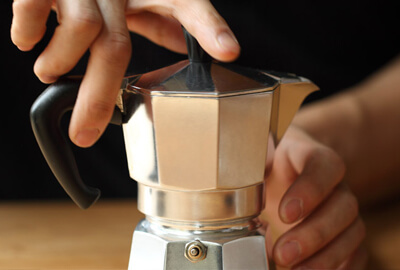 Moka Pot
The moka pot is a stove-top or electric coffee maker that brews coffee by passing boiling water pressurized by steam through ground coffee. Moka pots are traditionally made of aluminium, though they are sometimes made out of stainless steel or other alloys. Named after the Yemeni port city of Mocha which is also known as Al-Makha and located on the Red Sea coast. This brew method provides a coffee that is very rewarding with it's heavy-bodied mouth feel and deep flavour profiles.
Cold Brew
Steeping of coffee grounds in room temperature with effective outcome of full range of mouthful and sweetness from the beans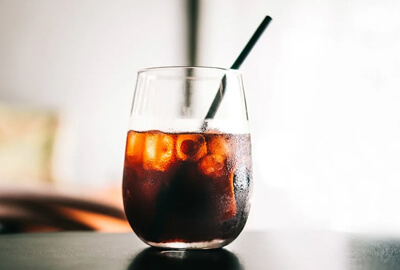 Classic Cold Brew
With specific premium specialty coffee beans ground to recipe and immersed together with filtered water. Then they are marinated for 12 to 16 hours, kegged and chilled. This refreshing, bold and textured iced coffee is drawn using a tower faucet that is ready to serve coffee on tap any time.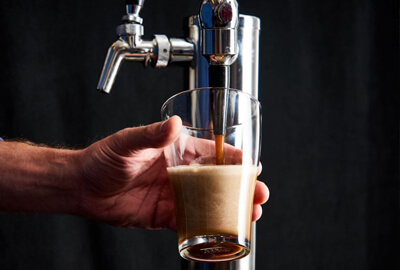 Nitro Infused Cold Brew
Crafted through infusing nitrogen gas with beautifully steeped cold brew to produce a rich and silky taste with a creamy foam head. Each pour from the stout faucet creates a reverse cascade that is fulfilling to watch.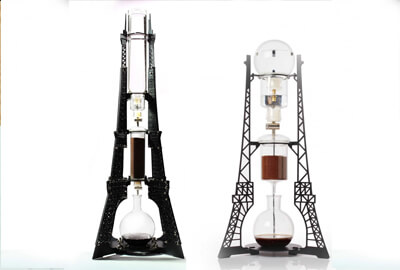 Slow Drip Cold Brew
This method where cold water from the water dripper is released drop by drop and runs through the coffee bed to extract the coffee's full flavour. Brew time takes 8 to 12 hours and the coffee is characterized by a highly concentrated, rich and sweet flavour.